From the Band's Facebook Page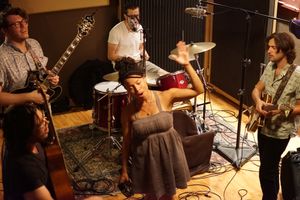 NEW SONG INCOMING!  
We know it's been a quiet year so far on the Great Caesar front-- to tide over our incredibly patient & supportive fans we're releasing a 5-SONG LIVE SESSION recorded last year at Sonic Factory Studios in Des Moines, IA. This session wouldn't have been possible without the support of the amazing community of friends we've made in Iowa (of all places!), and features two new songs we've been playing for a bit but have never properly recorded.  
So here's the first one of those-- "Want You Dead." This song was written during the Jackson's Big Sky sessions, and if you saw us perform in 2016 we very likely played it. We couldn't be happier to finally share it with all of you.  
The record comes out 6/9, but we will have copies of it available at Great Caesar/Bent Knee at Rough Trade Brooklyn on June 1st. Get your tickets now!